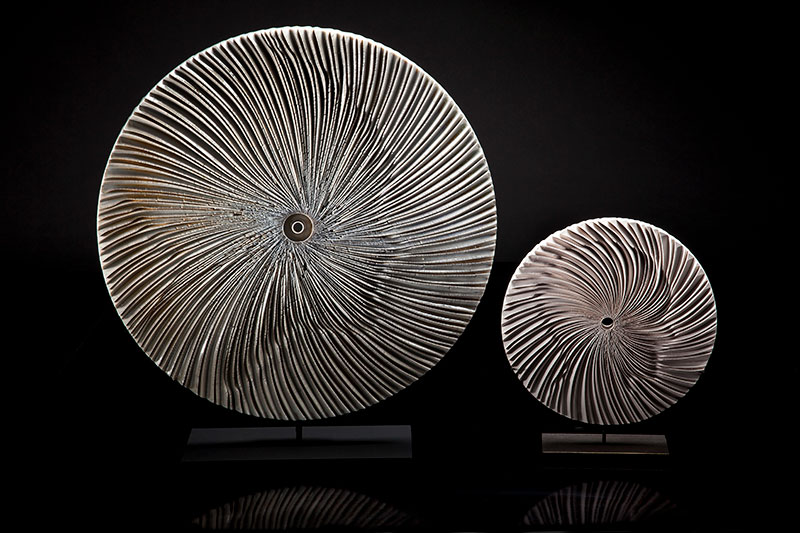 Tsinghua University Art Museum (sometimes referred to as China's Harvard) has organized a large survey exhibit of worldwide contemporary ceramics. The exhibit is titled "To Ideal Land of Ceramics" and includes about 70 artists with some foreign artists. Only three Americans are included. Accompanying the exhibition is a hard-cover catalog with many essays—the most important one, written by artist and Tsinghua Professor, Bai Ming. In his essay, Professor Bai divides the art into several categories. Leuthold's work is included in the section "Appeals Beyond Form."  There are perhaps 15 artists in all included in this section and Professor Bai mentions four of them by name in the essay—including Japanese master artist Fukami and French master, Jean Francois Fouilhoux and American artist, Marc Leuthold. Mr. Bai characterizes the type of abstraction with which he associates Leuthold's work as "a visual and psychological reconfiguration that embodies the fundamental essence of of the object in a lyrical fashion—while not necessarily related to the natural configuration of the object." Professor Bai has written over 25 books and has exhibited in museums all over the world. His knowledge of contemporary ceramics is profound.
The exhibit opened on April 22, 2018, and so far more than 200,000 people have visited it. The opening ceremonies included speeches by 20 Chinese scholars and leaders and foreign experts. The ceremonies were reported by over 50 news outlets in China.
Throckmorton Fine Arts in New York City represents Leuthold's work in the USA. They currently have a group of Leuthold sculptures on view in the gallery. They are located at 145 East 57th Street, 3rd floor. Phone number: (212) 223-1059.