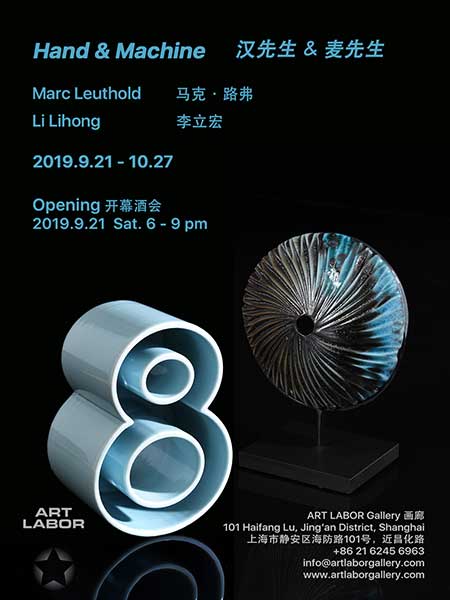 ART LABOR Gallery is pleased to present the dual solo exhibition by American artist Marc Leuthold and Chinese artist Li Lihong. The exhibition is from September 21st to October 27th, 2019. The opening reception is from 6 – 9 pm, Saturday, September 21st.
Both artists are renowned in the field of ceramic art, yet distinct with their own unique atheistic. Entitled "Hand and Machine", the exhibition is a conversation between the handmade and machine creation, as well as a conversation between the two artists exploring Eastern and Western cultural influences.
Marc Leuthold has a long interest in Eastern philosophy, and this eastern aesthetic is embodied throughout his creations. On the contrary, Li Lihong, born into a long family line of porcelain artisans tracing back to the emperor Tong Zhi in the early Qing Dynasty, has been focusing on exploring temporary porcelain under the influence of western pop art and consumer culture. Both artists are grounded within the cultural contexts of their upbringings, while searching for expressions through the other.
Through this medium of clay, Leuthold's works are a play between the soft and hard, and the fluid and crystalline. An element of surprise occurs in his studio, sometimes yielding unexpected forms, surfaces and colors. This leads to re-invention and experimentation. Even when repeated, forms are inherently unique. His ceramic sculptures, most often, are discrete objects that are exhibited sometimes singularly and sometimes in dialogue with one another in installation environments. In these environments, the artist often incorporates other media such as wood, glass, paper, ink paintings, bronze and literary texts.
After years of hand making all his sculptural works, Li Lihong started experimenting with ceramic 3-D printing last year. Blending the cutting edge technology into his practice, creating artwork that plays with the new possibilities while testing its limitations is what intrigues him the most. Even with the machine, the seemingly unified sculptural form is still hard to find. With 3-D printing, each piece expresses its own uniqueness through inimitable "line prints", upon close observation, the stereotypical notion of repetitiveness and uniformity dissipates, making us dive deep into and question the concepts of hand verses machine, monotony verses diversity, command verses free will.